The global stationery products market was expected to be valued at USD 24 billion in 2021-end, and it is projected to reach USD 30 billion by 2031, registering a CAGR of 4% during the forecast period 2021-2031.
Newly published data from Fact.MR establishes that the global stationery market is foreseen to grow sluggishly to touch approximately US$ 24 Bn by 2026. However, the long-term projections until 2031 appear stronger owing to steady demand from educational institutes and workplaces. The global market is projected to follow a 4% CAGR throughout the forecast period.
How are Rising Educational Programs Fueling Demand for Stationery?
The rising demand for stationery can be attributed in part to the increasing number of educational programs being offered worldwide. With more students enrolling in school and pursuing higher education, there is a growing need for stationery such as notebooks, pens, and pencils. Additionally, many educational programs are shifting towards more project-based learning and experiential learning, which often require the use of various types of stationery. This has created a higher demand for specialized stationery such as markers, highlighters, and sticky notes, as well as more traditional products such as notebooks and loose-leaf paper.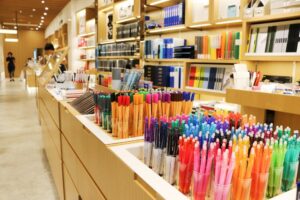 Moreover, the growth of e-learning and online education has also fueled demand for stationery. As students spend more time learning from their computers, many have found that taking handwritten notes helps to improve retention and comprehension. This has resulted in a higher demand for notebooks, pens, and other writing instruments. Additionally, with the rise of hybrid learning models, many students are finding that they need both digital and physical stationery to support their studies. As a result, the demand for stationery is expected to continue to rise as educational programs continue to evolve and adapt to the changing needs of students.
How is the Corporate Sector Spurring Global Stationery Demand?
The corporate sector is a major contributor to the global stationery demand. In the corporate world, stationery is not only used for basic writing and note-taking purposes but also for branding, communication, and marketing purposes. Many companies use stationery such as business cards, letterheads, and envelopes to create a professional image and establish their brand identity. This has led to a higher demand for specialized and customized stationery products that meet the unique branding and communication needs of businesses. Additionally, as more companies have shifted towards remote work and virtual communication, there has been a higher demand for digital stationery such as electronic letterheads and business cards.
Moreover, the corporate sector also plays a significant role in fueling the demand for specialized stationery products such as planners, journals, and desk organizers. With the rise of productivity and time-management tools, many companies are encouraging their employees to use stationery products that can help them stay organized and focused. This has created a higher demand for products such as personalized planners, bullet journals, and productivity notebooks that cater to the specific needs of professionals. As a result, the corporate sector is expected to continue to drive the growth of the global stationery market by increasing demand for both traditional and specialized stationery products.