The global software as a medical device market currently accounts for a valuation of US$ 1.1 billion and is expected to boom at a CAGR of 16.7% to reach US$ 5.4 billion by the end of 2032.
Revenue from the (SaMD) market accounts for around 1% share of the global medical devices market.
As the biopharma space gets more competitive and the days of blockbuster drugs seem further in the rearview, biopharma companies are investing in digital to find new and innovative ways to differentiate themselves. Digital leaders are turning to Software as a Medical Device (SaMD) to assist with the diagnosis or treatment of disease.
These next-generation tools create more personalized experiences for patients, more information to guide clinical decision making and plenty of data for biopharma companies to use to continually improve therapies and to make a case for reimbursement. Along with this growth have come several developments in the regulatory space that impact how SaMD products are classified and how they can be used.
According to the International Medical Device Regulators Forum (IMDRF), Software as a Medical Device is software intended to be used for one or more medical purposes, and is not part of a physical medical device. These purposes vary and can include assisting with the diagnosis or treatment of disease, assisting with symptom management, or as a companion diagnostic software to a drug. There are many other uses as well.
SaMD software must be developed under a Quality Management System, like hardware devices. There are standards and guidance documents that apply specifically to SaMD. For example, IEC 62304 Medical Device Software — Software Life Cycle Processes is an international standard that provides a framework for developing and maintaining SaMD and software within medical devices. There are several other standards and guidance applicable to SaMD products.
Several trends around SaMD development are impacting how these products are classified and regulated, or present challenges to those processes. Here are five of the top trends.
Weaving medical software solutions into everyday life
As the world continues to move towards a more digital lifestyle, the need for reliable medical software solutions is increasing. From patient portals to electronic health records, medical software solutions are becoming an integral part of everyday life. Not only do they streamline the healthcare process, but they also provide patients with greater access to their medical information, improved communication between providers, and overall improved quality of care.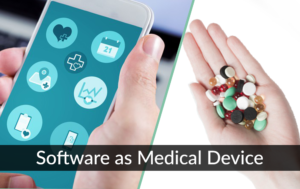 For healthcare providers, medical software solutions help to streamline administrative and clinical processes, improve patient engagement and satisfaction, and provide improved data security. Additionally, medical software solutions can help to reduce the burden of paperwork and manual data entry, improve accuracy and reduce costs. Furthermore, medical software solutions can facilitate better decision-making, improve the overall patient experience, and enable care providers to deliver better patient care.
Automating tasks to save time and boost patient adherence
Automating tasks is quickly becoming a popular way of saving time, streamlining processes, and improving patient adherence. Automated tasks can help to keep track of vital information, and help to ensure that patients are getting the best care possible. Automating processes can help to reduce paperwork, and minimize the chance of errors. Automation can also be used to remind patients of their appointments, and keep track of their medications and health history. Automation can also help to ensure that patient information is kept secure and up-to-date.
Personalizing the patient experience to improve healthcare outcomes
In today's healthcare system, it is essential to provide personalized care for patients to achieve better outcomes. Personalized care means individualized care tailored to meet the needs of each patient. This includes a holistic approach to care that takes into account the physical, mental, emotional, and spiritual needs of the patient. Personalizing the patient experience can be achieved through providing comprehensive and personalized care plans, developing meaningful relationships between patients and providers, and creating an environment of individualized care and respect. Personalizing the patient experience can help to improve healthcare outcomes by providing more comprehensive and personalized care plans, fostering better communication between patients and providers, and allowing for more meaningful relationships between patients and providers.
Additionally, personalized care can help to reduce healthcare costs, improve patient outcomes, and increase patient satisfaction. Personalizing the patient experience is an important part of providing quality care and achieving better healthcare outcomes. By taking a holistic approach to care, providers can ensure that each patient receives the care they need and that their overall healthcare experience is personalized.